The fastest way
to develop websites and templates.
Themekit Code is an extendable framework similar to Bootstrap but with some key differences, it's built to create websites and templates instead that user interfaces, it's productivity oriented and it's fast and easy to use.
---
Purchase now
Documentation
Extensive components
library with advanced options.
The most complete components library on the market, composed by more than 80 components, enable a fast and easy template creation. Every component has dedicated options for all the needs.

---
---
Modularity and smart scripts
ensure a truly superior flexibility.
A framework based on the concept of modularity. Small, independent code blocks are linked together for create the website. Each module has generic and the low-level functions that ensure the maximum flexibility.
View documentation
Large options set for every component, 500+ available options.
Low-level structure to reuse the components on different scenarios.
Only the best and most flexible 3rd party plugins.
Smart scripts that automatically generate the desidered output.
---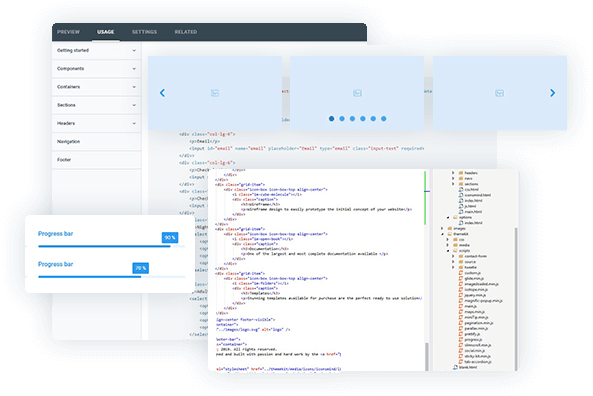 Extreme productivity
for a fast and easy development.
Develop your website by just copy and paste the html code snippets of the documentation. Each module has generic low-level functions and options that ensure the maximum flexibility. No need to write any Javascript code.
View documentation
---
Superior performance
with great speed and high scores.
Speed is everything, Themekit Code is built to develop high performance websites. A hard work has been done to minimize the file size of scripts and styles and to avoid redundante codes. Only lightweight plugins.
Check seo score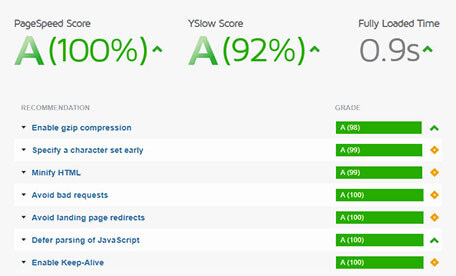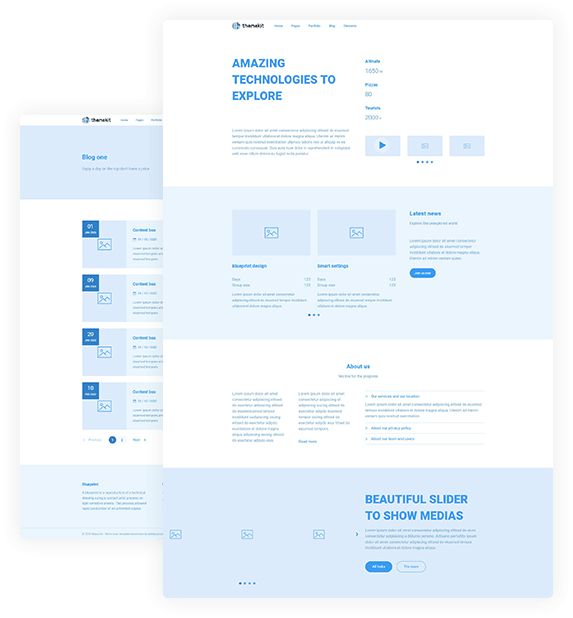 Blueprint template
included with the purchase.
Blueprint is a wireframe kit, a set of ready to use pages with a neutral blueprint design. Start your web project right with design free prototype.
---
Base your visual design on prototypes.
Contstant updates ensure new pages available in future.
Included for free into the Themekit Code product.
---
View template